Nora B
(Basset Hound)
---
Barembak Martini at Maursett
14 July 2002 - 23 March 2013
Originally, we introduced Barembak Martini at Maursett into the Maursett household. Nora B, as she was known to her friends, (something to do with her wrinkly stockings), became an instant hit with the Maursett Mob.
Whilst she was not shown much, she certainly did herself justice in the ring when asked to do so:
"Taylor's Barembak Martini at Maursett....calm female, having head of correct wedge shape, and lovely expression, eyes dark. Jaw strong, with teeth of correct bite. The head supported on a neck that rolled down to strong shoulders, fronting a deep chest. The ribs rounded and deep flowing back to a tight loin. Rear legs strong and with good bend of stifle. Well let down hocks. Good mover."
Tony Coddington, Breed Judge, Darlington Championship Show 2003
She did, however, much prefer the comforts of a settee to recline on rather than all that running around. She turned into a grand old lady, much appreciated by all of us and everyone who came into contact with her.
Barembak Martini at Maursett

Sire: Harvidene Texas Flame

Dam: Terry's Golden Girl at Barembak

Photo © Ronnie McKenna
| | |
| --- | --- |
| Nora B arrived in the world on 14th July 2002 and joined her Maursett friends shortly afterwards. At 8 weeks of age, Nora B the Basset Hound had become an important member of the Maursett family (both canine and human). | (Nora B pictured at 8 weeks) |
Her show career started with a number of successes .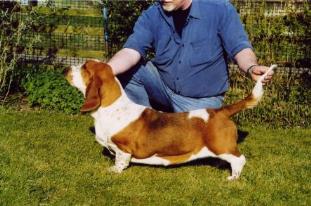 (Nora B pictured at 8 months - Photo © Ronnie McKenna)

[ Nora ] [ Lil ]