Myrtle
(Clumber Spaniel)
---
Maursett Mad Myrtle
Sire: Sh Ch Topjoys Just Socializing
Dam: Maursett Double Trouble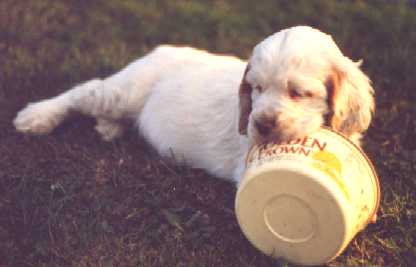 Myrtle - the puppy
Myrtle has been highly influential in the Maursett line, with her first litter producing our own Show Champion, Sh Ch Maursett Marguerite, a Champion for Judy Sutfin in the USA (Am Ch Maursett Maclaya) and Irish Ch Maursett Morning Glory for Mary Kelly in the Emerald Isle.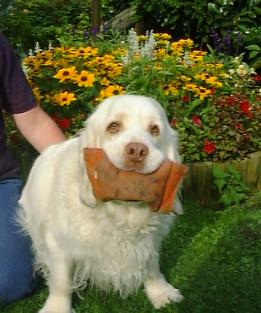 "They all laughed at Christopher Columbus...."
Well, they all laughed at Tony when he took Myrtle the Chocaholic (she just could not resist chocolate) out on a shooting day. They stopped laughing when she proved her worth after a hard day's work in the field.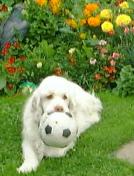 And, should you ever feel inclined to go shooting footballs, may we commend Myrtle's offspring as companions for the retrieving work!
Myrtle passed away in 2004 and her humour and inherent sense of fun and mischief is sadly absent from our lives.
Click Here to view Myrtle's Pedigree
Click Here to return to the Maursett Clumber Spaniels main page