| | | |
| --- | --- | --- |
| | Please have a look at our Maursett Clumber Spaniels | |
---
We hope you will take this opportunity to take a look at the Clumber Spaniels that have played such an important part in our lives. We take great pride in the health of our dogs and many - as you will see - have lived well into their teenage years.
Of course, some of these Clumber friends are sadly no longer with us (Claude was born in 1983), but we still miss them and remember them with great love and affection as they have all, truly, been part of our family.
| | |
| --- | --- |
| | Sh Ch Maursett Mildraed (Crumble as she was affectionately known) received the coveted Best Puppy in Show title from Mrs Peggy Grayson, at the Centenary Show of the North of England Spaniel Club in May 2002 - also pictured is the Reserve Best Puppy in Show, Thornhill's English Springer Spaniel Inthor Fairie Tale. |
| Granddaughter Beth enjoys some quality 'puppy time' with Sh Ch Maursett Mathos JW in May 2018. | |
Our Clumber Spaniels have always been, first and foremost, our constant companions and they have never let us down.
The full pedigrees are available on each of the pages for the "Maursett Mob" (as we like to call them) and please do not hesitate to get in touch with us if you would like any advice, guidance or just some general information about this wonderful, historic and proud breed.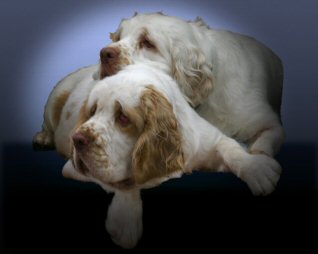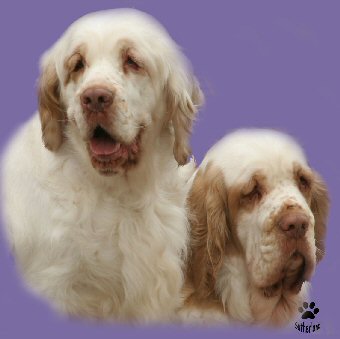 Photographs of Maursett Maude and Maursett Mamile © Eileen Sutherland - (Eilandon)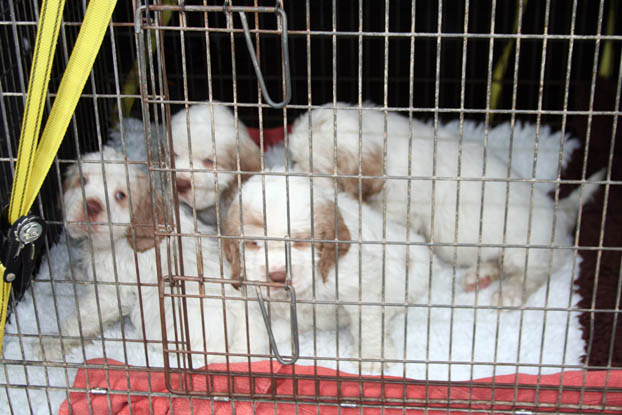 Maursett Maude's litter photographed on their first outing in May 2009 - within two minutes, all four of them were snoring!
Please click on the buttons below for photographs and pedigree information for our very own Clumber Family.
Each and every one of them is very dear to our hearts, going right back to those who started it all for us many years ago - Claude (Belcrum MacAonghais Mor at Maursett) and Sheena (Raycroft Sheena at Belcrum) - the very first members of 'The Maursett Mob'.