The Stig
(Clumber Spaniel)
---
Jubilwell Riff Raff for Maursett
Sire: Maursett Medraut of Karikad
Dam: Jubilwell Clowning Around
Born: 23rd July 2007
Died: 20th October 2020

The Stig on his 13th birthday with our grandson Sam - two teenagers who have grown up together and always the best of friends
The Stig's great grandfather - our own Sh Ch Maursett Mindsapint - has the pet name of Riff Raff, so we were pleased to be able to confuse as many people as possible with the arrival of the The Stig. The Stig was unfurled on to the world of dog shows early in 2008 and looked forward to life in the fast lane. In common with his counterpart on Top Gear, some people said:

Photographs by Eileen Sutherland (Eilandon)

The Stig has been tested for PDP1 and has been certified as clear and, as you can see from these action shots taken by our good friend Eileen Sutherland, he certainly gets into top gear on the move: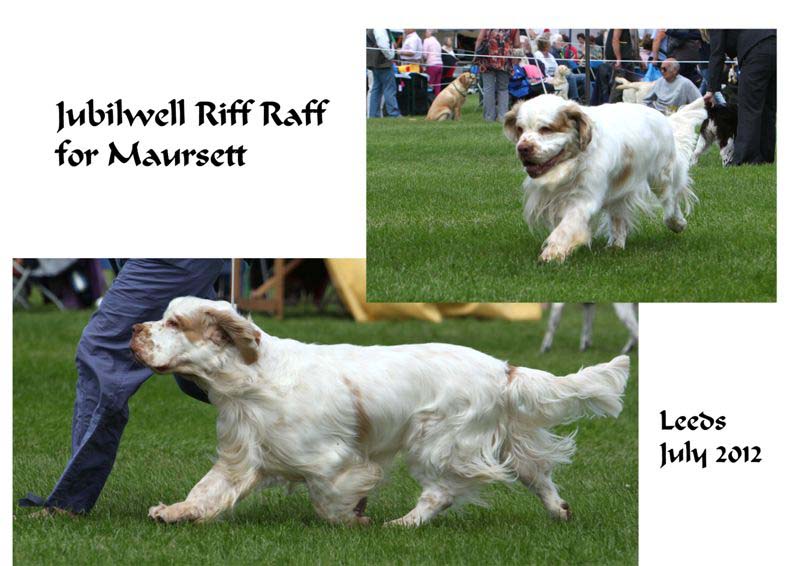 Photo ŠEileen Sutherland
The Stig achieved a Best Puppy in Group and numerous Puppy Group placings at Open Shows as his career got off to a racing start, along with three Best Puppy Dog, two Best Puppy in Breed awards and numerous Junior Class wins at the Championship Shows he attended as a puppy.
His success continued as an adult, including the Reserve Challenge Certificate at East of England Championship Show (July 2009) and at Driffield Championship Show (October 2009); The Stig went on to make a fantastic start to 2010, taking the Reserve Dog CC at Crufts Championship Show (March 2010), having won a very strong limit class.
The Stig performed well in 2011, gaining the Reserve Challenge CC at Bournemouth Championship show under breed specialist Gina Bowers. 2011 also saw him go Best In Show at the Clumber Spaniel Club's Open Show (judged by breed specialist Sarah Grimshaw) and win the Dog CC at the prestigious Richmond Championship Show, judged by another breed specialist, Eunice King. All Rounder Sharon Pinkerton gave The Stig the Best Dog award at the Darlington Championship show.
"Taylor's Jubilwell Riff Raff for Maursett, super puppy from any angle, sound and stylish, well constructed body, nice bone, ribs and quarters. Considered him for the RCC ...has a lot of promise"

Moray Armstrong, Judge, Scottish Kennel Club Championship Show, May 2008

The Stig, pointing naturally to magnetic North (honestly)

(March 2008)

Jubilwell Riff Raff for Maursett ...I like him very much. Excellent for type, well balanced, angles all in the right place. Liked his head and expression and, when mature, I am certain that he will title. Scores on the move as he is exceptionally sound"

Lee Cox, Judge, South Wales Championship Show, 5 July 2008
The Stig with his best friend, our grandson Sam

(January 2008)
The Stig prepares to eat his first Christmas Cake, Christmas Pudding, Christmas Tree, Christmas Bauble etc..........

(December 2007)
Be Honest! Who didn't believe us about sleeping like a bat?

(September 2007)
On my way to the circuit

(September 2007)
Click Here to view or download a copy of The Stig's Pedigree
Click Here to return to the Maursett Clumbers Main Page