Maeve
(Clumber Spaniel)
---
Sh Ch Mischievous Maeve With Maursett
Sire: Cape Lewisporte Made In Belgium (Imp Bel)
Dam: Maursett Mavourneen
Born: 20 January 2015
Maeve (who certainly lives up to her name as a mischievous member of the Maursett Mob) made her debut appearance at Leeds Championship Show in July 2015, at just 6 months of age where she delighted us by winning the Clumber Spaniel Puppy Bitch and Best Puppy award.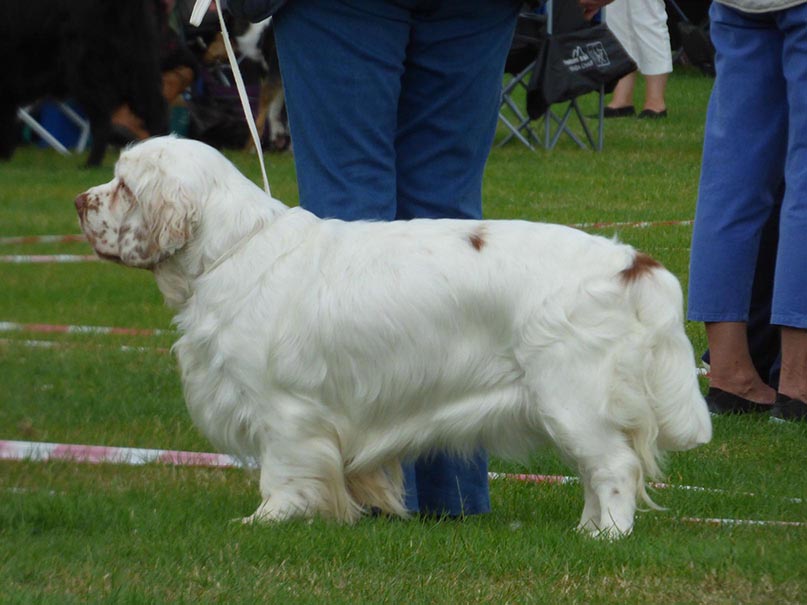 Maeve pictured in July 2016 as she takes Best of Breed Clumber Spaniel at York Canine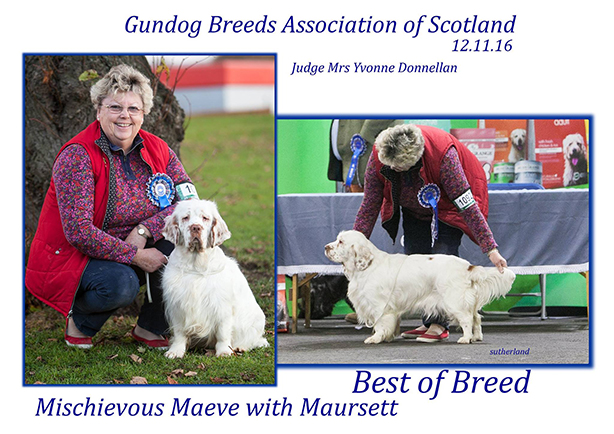 Carol Moore judged Maeve at the Saltburn Open Show in 2016, a few days after Maeve had got her second Reserve CC (aged just 15 months) at WELKS under breed specialist Lee Cox.
"What a little cracker she is. Quality from nose to tail and movement that is a joy to watch. Square muzzle balanced by moulded back skull. Bright eye giving a sassy expression. Strong through the neck, excellent front assembly with plenty of bone and the correct amount of leg. Firm topline standing and moving, lovely wide thighs with good muscle."
Carol Moore, Judge - Saltburn & District Open Show, April 2016 (
Maeve -
Best AVNSC & Gundog Group 2)
"I judged this youngster last year in a Puppy Group and liked what I saw.....soft expression, with clean eye, well constructed front, just the right neck length going into well angulated shoulders, well turned stifle giving good movement".
Gordon Talbot, Judge - Crufts, March 2016 (Maeve -Res CC)
"Just up my street. So pretty, 10 months, beautifully balanced, lovely head and expression, nice tight eyes, super neck. Good length. Moved out with reach and drive. I liked her a lot"
Dee Carter Hunt, Judge - LKA Championship Show, December 2015 (Maeve -Best Puppy in Breed)
"A feminine bitch, full of character. Good clean head, with good dentition. Clean eyes and ears, good muscle tone over the shoulders flowing into a level topline which was maintained on the move. Good depth of chest, moved with real drive."
David Boden, Judge - Gundog Breeds Association of Scotland Ch Show, November 2015, (Maeve - Best Puppy in Breed & Puppy Group 4*)
*Puppy Group judged by Gordon Talbot
Maeve has certainly made her mark at an early age, including a Group 4 Puppy award at the Gundog Breeds Association of Scotland Championship Show, Best Puppy in Show at the Clumber Spaniel Club Championship Show and Best Puppy in Show at the Goyt Valley Gundog Club. She has enjoyed Best Puppy awards at Championship Shows and Group awards at other open shows as her show career gets off to a flying start. Maeve took the Reserve Bitch Challenge Certificate at Crufts in March 2016 and at WELKS at few weeks later. She gained her first Challenge Certificate at the National Dog Show in May 2017 (judge:Tom Graham), with her second later the same month at SKC (judge: Jeff Horswell). She gained her title when Ruth Martin awarded her that all important third Challenge Certificate at Leeds Championship Show in July 2017. She then went on to gain the CC and Best of Breed at 2017 Gundog Society of Wales Championship Show under breed specialist judge John Newsham and completed her outings for the year by gaining the bitch CC at LKA Championship Show in December 2017, judged by Jane Howarth.
"At this age, she is nicely proportioned which promises well of things to come. She has a nice broad skull, with a good expression and regular scissor bite. Correct angulation to the front and rear with a level topline held on the move and a good reach. Well sprung ribs and reasonable depth of chest, good turn of stifle"
Peter Shepherd, Judge - Goyt Valley, Januarry 2015 (Maeve - Best Puppy, Best of Breed and Res Best Puppy in Show*)
*BPIS - judged by Nigel Worth
Maeve winning Best Puppy in Show at Goyt Valley Gundog in October 2015 (judged by Caroline Walkling).

"Lives up to her name. Pretty, feminine head with a lovely soft expression. Clean eyes and ears. Correct bite, firm over the shoulders, good front and rear, plenty of bone, well bent stifles, correct tail set which she carried well on the move. This is one to watch. Liked her a lot"

Hilda Monaghan, Judge - Clumber Spaniel Club Ch Show, October 2015 (Maeve - Best Puppy in Show)

Maeve continues her winning ways, earning another Best Puppy in Breed award, at Driffield Championship Show in October 2015. Breed specialist judge David Howarth placed Maeve first in the Minor Puppy class and then BP in the challenge. The following weekend, Hilda Monaghan was judging the Clumber Spaniel Club's Championship Show and awarded Maeve Best Puppy in Show.

"At 8 months, shows a lot of promise. Well balanced body, with length coming from ribs rather than loins. Lovely head with plenty of stop and clean eyes. Strong neck of correct length, well boned, straight front legs. In good coat and carrying the correct amount of body. Moved with enthusiasm. Should develop nicely"

David Howarth, Judge - Driffield Ch Show, October 2015 (Maeve - Best Puppy in Breed)

"A real baby, but has attitude and presence already at six months. Loved her head, good shape, balanced and with a lovely clean eye and that thoughtful expression which is so typical.

Best of fronts, excellent body for her age with good depth and well sprung ribs. Once she settled into her stride, moved very soundly.

Best puppy".

David Shields, Judge - (Leeds Championship Show, July 2015 Maeve - Best Puppy in Breed)

Mischievous by name and mischievous by nature - from a very early age.

Here she is, newly arrived chez Maursett and about to wake up her grand mother, Ethel (Maursett Melisent), who happened to be fast asleep......but not for long.
Click Here to view Maeve's Pedigree
Click Here to return to the Maursett Clumber Spaniels main page